Medical Eye Care
Allen Eyecare Center provides a wide array of medical eye services to ensure your health needs are met.


About our medical eye care
Proudly serving Allen, TX, and surrounding areas.
At Allen Eyecare Center, we understand the importance of maintaining good eye health. That's why we offer a wide range of medical eye care services to meet your healthcare needs. Our team of highly trained and experienced eye doctors is dedicated to providing you with the best possible care and ensuring your eyes stay healthy.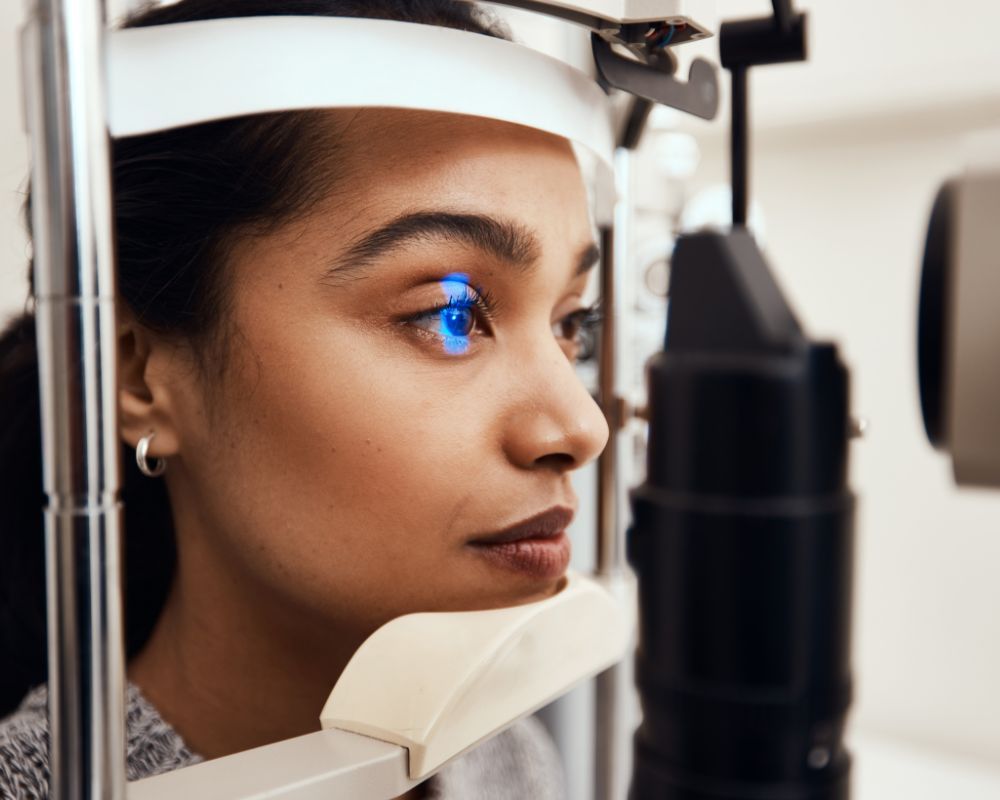 Medical eye care services
We utilize advanced diagnostic technology which is not found in all optometrists offices that enables us to gather more information and provide more treatment options. Our medical eye care services include:
Dry Eyes
Ocular Allergies
Glaucoma
Retinal Problems
Corneal Problems
Diabetic Eye Disease
Macular Degeneration
Hypertensive Eye Disease
Surgical Pre-op and Post-op Care
Conjunctivitis (Red Eye/Pink Eye)
We work closely with other doctors and surgeons in the area to ensure you get the expert help you deserve. We also can communicate with them on your behalf to ensure your health needs are met.
Our Advanced Eye Treatment Services
Glaucoma Services: Advanced Diagnosis and Treatment
At Allen Eyecare Center, we understand the importance of early detection and comprehensive treatment for glaucoma, a leading cause of blindness. We offer advanced diagnostic testing to accurately assess the condition of your optic nerve and measure your intraocular pressure. Our experienced team uses the latest technologies, such as optical coherence tomography (OCT), to monitor changes in your optic nerve and detect glaucoma progression.
Once diagnosed, our team will work closely with you to create a personalized treatment plan. We provide various treatment options, including medication therapy, laser treatments such as selective laser trabeculoplasty (SLT), and surgical interventions like trabeculectomy or minimally invasive glaucoma surgery (MIGS). Our goal is to effectively manage your glaucoma and preserve your vision for the long term.
Diabetic Eye Disease Services: Comprehensive Care for Eye Complications
Diabetes can lead to various eye complications, including diabetic retinopathy and diabetic macular edema. At Allen Eyecare Center, we offer advanced testing and treatments to address these conditions. Using cutting-edge technologies such as fluorescein angiography and optical coherence tomography (OCT), we can detect signs of diabetic eye disease at its earliest stages.
Our experienced team will develop a tailored treatment plan to optimize your eye health. Treatment options may include laser therapies like pan-retinal photocoagulation (PRP), intravitreal injections of medications such as anti-VEGF agents or steroids, or referral for surgical interventions when necessary. With our comprehensive diabetic eye disease services, we aim to protect your vision and prevent further complications.
Macular Degeneration Services: State-of-the-Art Testing and Management
Macular degeneration is a progressive eye condition that affects the central part of your vision. At Allen Eyecare Center, we offer advanced testing and management options for macular degeneration. We use technologies such as fundus autofluorescence (FAF) and optical coherence tomography (OCT) to accurately diagnose and monitor the progression of the disease.
Once diagnosed, our team will create a customized treatment plan to slow the progression and manage the symptoms of macular degeneration. Treatment options may include intravitreal injections of medications like anti-VEGF agents or advanced supplementation with vitamins and minerals. With our advanced testing and comprehensive management strategies, we strive to preserve your macular health and optimize your visual function.
Trust the Experts at Allen Eyecare Center
When it comes to advanced eye treatment services for glaucoma, diabetic eye disease, and macular degeneration, trust the experienced team at Allen Eyecare Center. We are dedicated to providing the highest level of care using state-of-the-art technologies and personalized treatment plans. Schedule an appointment today to receive advanced testing and comprehensive management for your eye condition. Contact us to book your appointment.
What our patients are saying about us
Very Helpful
"The experience was top-notch! I found Allen Eyecare Center on a whim through my insurance and I have hit a home run! Thank you!! I would highly recommend it!"
~ Ashley
Best Care
"I have been going to Allen Eyecare for over 20 years. Cannot say enough about the wonderful care we have all received from the doctors and office staff."
~ Julieanne
Smiling & Warm
"Every single time I leave Allen Eyecare Center, I feel like I have just been blessed.... The office staff is always smiling and warm."
~ Brooke
Ready to schedule an appointment? We are now accepting new patients!